How User Experience, Content and Paid Google Ads Helped Grow A Family-Owned Business
See how our approach to digital marketing helped grow Art Plumbing, AC & Electric to who they are today.
Introduction
Art Plumbing, AC & Electric is one of Florida's premier residential and commercial air conditioning, heating, indoor air quality, plumbing, electric, and home generator service providers.
Currently, the company sells, services, repairs, and installs plumbing, heating, and air conditioning systems throughout the state of Florida. Their service areas include Broward, Palm Beach, and Miami-Dade counties in South Florida, and most recently they've extended their services to Duval County in Northeast Florida.
Our Roles:
Agency of Record
Digital Brand Strategy
Social Media
Mobile & Web Development
Content Strategy & Development
SEO & SEM
Challenges:
Consolidate digital footprint
Grow customer base
Increase service area locations
Attract quality leads
Increase return-on-investment
Increase click-through-rates with potential customers
Increase traffic to artplumbingandac.com
Become a trusted authority within their industry
Attract quality employees to the company
Insight
When Art Plumbing, AC & Electric first came to Connectica they had 150 websites that were underperforming and diluting the brand. By consolidating the company's websites down to four, we were able to elevate its brand identity.
Part of our strategy for Art Plumbing, AC & Electric was creating an effective PPC or "pay-per-click" ad campaign that had a high ROI. Before Connectica designed and implemented various digital marketing techniques, Art Plumbing, AC & Electric's PPC strategy was disjointed and offered no strategic plan. The campaigns they were running weren't properly deciphered as branded or unbranded.
Art Plumbing, AC & Electric lacked any depth to its web assets and had no efficient strategy for hiring quality employees.
What We Did
Connectica consolidated all of Art Plumbing, AC & Electric's web assets, conducted a complete website redesign and taxonomy of core service areas, and configured a comprehensive content plan.
Other digital marketing strategies that Connectica implemented include call-tracking and customer outreach. By making use of the "silo" technique, we were able to organize Art Plumbing, AC & Electric's website content into key concepts, under the categories where they should be for maximum impact.
Our Strategy:
Consolidated web assets
Increase quality content on website
Optimize main service pages
Use long-tail keywords for articles
PPC advertising
Monthly audits
Track leads to determine what is working
Customer outreach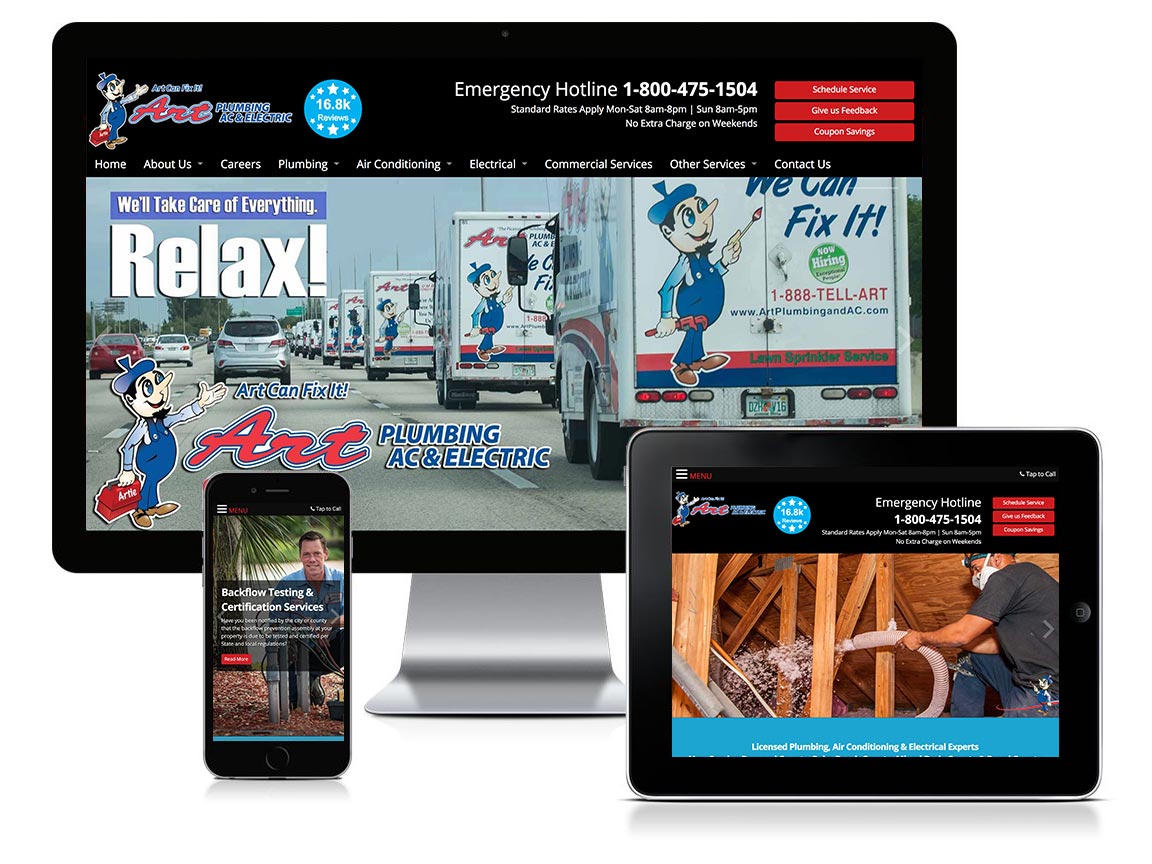 Content Creation
We updated the website to include a better menu structure to highlight their services with dedicated "core pages" linking to each service offered. We also publish daily blogs full of original, relevant, and authoritative content on their website. This is to demonstrate not only that the site is current and frequently updated, but also to provide a wide variety of topics for ranking on the Internet. We are continuously working towards writing and formatting content that is on Google's featured snippets.
Search Engine Marketing (SEM)
We continue to tweak ads to ensure peak performance throughout the year. We went through the verification process for Google Local Service to display during local searches in a carousel at the top of SERPs.
Track & Adjust
Continuously track leads through phone numbers, landing page tests, etc., to ensure the efficiency of our efforts and determine if improvements are necessary to reach goals.

Click through rate (CTR)
The click-through rate refers to the percentage of individuals visiting a website who click on a hyperlink that goes to a particular advertisement.
Comparing the 2014-2015 year to 2018-2019, the interaction rate of the total PPC Account has increased from 0.49% to 1.83%.
(Industry average <1%)
Attracting the right employees
We recently updated Art Plumbing, AC & Electric's career page to better optimize it toward the trade industry careers available. Along with the updated career page, we have dedicated an article per month on their blog towards trade industry careers.
Connectica also filmed and created a series of videos titled, "In Their Own Words," that highlighted the benefits of working at Art Plumbing, AC & Electric, which in turn, helped them find and hire quality employees.
Results
We updated the site to include a better menu structure as well as to highlight their services with dedicated core pages to each service offered. We also publish an estimated blog per day to their website to not only show the site is current and continuously updated, but also to provide a wide variety of topics for ranking. We work towards formatting and writing our content for Google's featured snippets.
Stats
310% increase in website traffic
1.83% increase in click-through-rate
275% increase in phone calls
Schedule a Consultation
Here at Connectica we take pride in getting to know our customers and their business personally. No matter the type, size, or scope of your project, find out how we can put solutions like these to work for you.